art education:
1988 Cardiff School of Art
1987 East Carolina University, USA
art exhibitions and performances:
2017 Littoral Light 2, Ramsgate, Kent
2016 Littoral Light 1, Ramsgate, Kent
2016 Chroma Blue, Safe House 2, London
2016 Boy Decomposing a Tablecloth, Pie Factory, Margate
2016 Salvage, Restore, Repair, Gallery 202
2015 Memory (Selected Show), Margate
2015 TIAF London 2015, The Rag Factory, London
2015 Selected Show, Islington Arts Factory, London
2015 Make / Create, The Crypt Gallery, London. Organised and commissioned by The Griffin Gallery and QEST
2015 Soil, Horsebridge Gallery, Whistable, Kent
2014 A Bittersweet Christmas, Vibe Gallery, London
2012 Diamond Jubilee pageant, The Cultureship Performance, Zatorski + Zatorski, London
1993 Group Show, Kitchen Gallery, London
1991 Amnesty International Art Exhibition, Lanchester Gallery, Coventry
1989 Images of Childhood, Workshop Gallery, Chepstow
1988 Degree Art Show, Cardiff School of Art, Wales
1987 North Carolina Open, Gray Art Gallery, USA
1987 Rebel Art, East Carolina University, Greenville, USA
1986 Journey (Sound Performance), Alternative Art Space, Cardiff
media:
2015 Review, Thanet Gazette
2015 Interview, London Live
2015 'Lux en Tenebris' featured on London Go arts programme
2015 Review on 'The Culture Trip'
1987 Review, The Carolinian
employment:
2014 - Artist
2012 - 2014 Head of Art Hum London
2011 - 2012 Business Development Lead, CNWL
2009 - 2011 Director of Services, Foundation66
2008 - Music Workshop Volunteer, SUDRG
2005 - 2009 Clinical Director, Rugby House
2002 Consultant, National Treatment Agency, NHS
2000 - 2005 CEO, COCA
1994 - 2000 Crack Services Manager, Blenheim Project
1993 - 1994 Programme Worker, Cranstoun Drug Services
1989 - 1993 Programme Co-ordinator, Turning Point
1988 - 1989 Psychiatric O.T. Assistant, MNH, NHS
1981 - 1988 Artist
publications:
M. Ruzicka, A.Gray, D. Krutilova, E. Wittman, R. Prochazka, P. Pracharova (2014) 'Restart: Teorie a Praxe Lecby Zavislosti' P-Centrum, CZ
I.Calder, A.Gray (2013) 'Colnbrook and Harmondsworth Immigration Removal Centres Health Needs Assessment', NHS
A. Gray (2011) 'Human and Community Enrichment and the Arts' Hum London
A.Gray (2010) 'Kokain Kratky Intevencni Program' Podpovujeme Vasi Budoucnost, CZ
A. Gray (2008) 'Prison Crack Programme', Home Office (NOMS)
A. Gray (2006) 'Crack Cocaine Brief Intervention Programme' NHS
Co-Author (2005) 'Substance Misuse in Primary Care – A multi disciplinary approach' Radcliffe Publishing
A. Gray, R. Reid, M. Winder, D. Charlton (2005) 'Crack in Sandwell' COCA
A. Gray, D, Sangster, T, D'Agostino, R, Reid (2004) 'Crack in Leeds' COCA
C. Ford, M. Tomlinson, F. Davies A. Gray, et al (2004) 'Guidance for working with cocaine and crack users in primary care'. LONDON: RCGP
A. Gray, T. D'Agostino (2003) 'Crack and cocaine DANOS compliant Training Manual' (NTA/Drugscope)
A. Gray (2002) 'Crack Resource Pack & Treatment tools'. NHS
G. Haynes, T. Bottomley, A. Gray (2000) 'National Crack Strategy', for UKADCU (Internal)
A. Gray (1998) 'What's the Crack'. Published by Blenheim Project, LONDON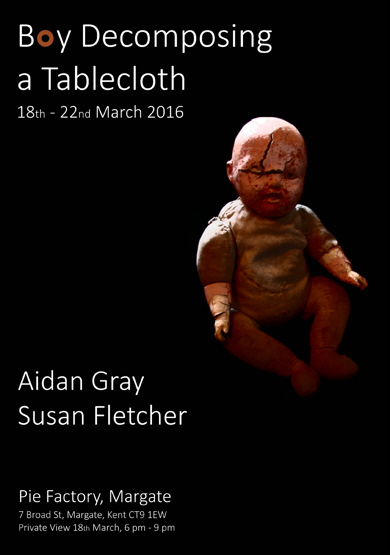 contact: aidan.gray@live.com
reviews...
2015 "Others provocatively construct a past (Aidan Gray's Carbon Copy) compelling us to muse on the act and the process of change, as well as on the artifact."
Nathalie Banaigs, Thanet Gazette
2015 "One piece in particular which seems organic against the brick walls is Susan Fletcher's and Aidan Gray's 'Lux en Tenebris'. The artists effectively utilise their chosen space, stacking white wax bricks against the crypt's worn walls, and a single gold brick that blends in with the existing walls. The light used illuminates the wax and highlights the wonderful juxtaposition of solid and malleable materials. The piece as a whole effectively suggests new life is being brought into the crypts."

Jenna Meade, The Culture Trip
1987 "This timely and satirical piece by Aidan Gray brilliantly captures the mood of the nation in response to Jimmy Swaggart's recent revelations."
The North Carolinian
---
---